WERSI DIRECT LAUNCH PEGASUS WING!

Here's how they describe it:
This a professional keyboard with professional future world features. It also offers 5 different synthesis types including Sampling, Wavetable, Analog, FM, and Drawbar. According to Wersi, fans have been waiting so long for this model. It's the new flagship model of the whole production line featuring nearly everything that Wersi users demanded in the past. To put it in another way: You demanded – we deliver! You get a flood of new exciting features in a new elegant housing with excellent quality. The Pegasus Wing features the new OAS 7 software OS (Open Art System) powered by Microsoft Windows.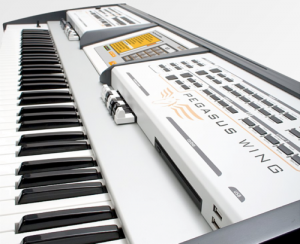 Features:
* 10″ Touch Screen
* Intuitive use
* 76 keys, lightly weighted for an excellent usability
* Genuine "Sine-Drawbars" 9 on the right, 7 on the left
* 5 Different Synthesis Types
* 100 Factory Presets, 500 User Presets
* 950 amazing sounds (from the top WERSI models)
* 350 factory styles (live played-in)
* Songplayer for Wave, Mp3 and MIDI files
* Memory Banks for own styles, midifiles, mp3s and wave files
* SSD HDD 32 GB
* Slot-In-DVD/CD Drive (read/write)
* Connections: MIDI, Line, Footswitch, Headphones, USB
* High quality metal case with wooden side parts
* Dimensions: 1220 x 450 x 120(60) mm
* Weight: 18 kg
3 Years Music Store Warranty
30 Days Money-Back Guarantee
Wersi will be showing the Pegasus Wing at Musikmesse 2011.
More info including how to order is available at http://www.wersidirect.com/www.wersidirect.com/News/Entries/2011/3/21_WERSI_DIRECT_LAUNCH_PEGASUS_WING!.html
Comments