Who's the top drummer?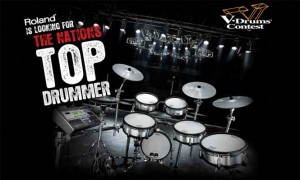 Roland U.S. is looking for the nation's best drummer with the 2010 V-Drums Contest. Here's their press release with all the details…
Co-sponsored by DRUM! magazine, Remo, Drum Workshop, and Blue Man Group, the V-Drums Contest gives drummers the chance to compete at the local, regional, and national level with solo drum performances on the TD-20SX V-Pro® Series V-Drums, and win professional percussion gear and swag along the way.
Start by submitting a digital audition to qualify for one of 28 preliminary competitions to be held at a local music retailer, and the result could be a slot in the regional competition, or even the National Finals in Las Vegas, Nevada. Entries will be judged and selected by Roland U.S., who will be looking for musicianship, stage presence, and creative uses of technology in drum performances.
Digital auditions are being taken now through August 31, 2010, at www.RolandUS.com/VDrumsContest
Digital Audition – August 1st – August 31st
Visit www.RolandUS.com/VDrumsContest
to enter at one of 28 preliminary locations.
15 contestants per location will be chosen to compete in preliminary round
Preliminary Round – September 14th
One winner from each preliminary location will be chosen to compete in regional round
Preliminary Winner Prize:
RMP-5 Rhythm Coach®
PDS-2 Pad Stand
Goodie Bags sponsored by Remo, Drum Workshop, DRUM!, and Blue Man Group
Regional Round – October 5th
One winner from each regional round will be chosen to compete in the National Finals
Regional Winner Prize:
OCTAPADâ"¢ SPD-30 Percussion Pad
PDS-10 Pad Stand
Gift Bags sponsored by Remo, Drum Workshop, DRUM!, and Blue Man Group
National Finals – November 4th
Sam Ash Music – Las Vegas, Nevada
Celebrity Judges from Co-Sponsors, Drum Artists
Guest performances by Blue Man Group and Thomas Lang
Grand Prize Winner
TD-20SX V-Pro Series V-Drums Kit
PM-30 Personal Monitor Amplifier
DW 9000-Series: Hi-Hat Stand, Snare Stand, Double Pedal, Throne
Remo Custom shell wraps
Second Place
TD-9SX V-Tour® Series V-Drums Kit
DW 5000-Series: Double Pedal, Throne
More information:
Comments