30 years has gone since Yazoo's Upstairs at Eric's hit the stores – Interview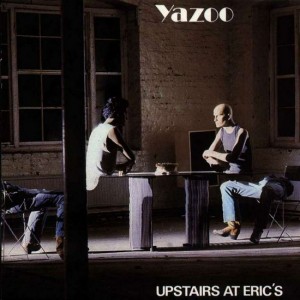 On the 30th anniversary of its release, Vince Clarke tells John Freeman how Yazoo's groundbreaking debut album was all about "the singing and the tunes".
Excerpt from the interview:
What were your first impressions of Alison?
Vince Clarke: By the time Alison and I started working together I did kind of know her. I'd seen her perform in a couple of local R&B bands and a punk band [The Vandals], so I knew she had a great voice. When I finally got to meet her I found her to be incredibly shy, which was opposite to her personality in this particular punk band.
What was it about Alison that made you want to work with her?
VC: Well, I only had one song, 'Only You', which I wanted to demo and that was the sole purpose of hooking up in the first place. I knew that she could sing with a lot of emotion and this particular track was a love ballad. I was looking for someone who could put that across.
What was that very first practice session like?
VC: It was great. We were using this tiny four-track tape recorder and I had the backing track already done. She came around to my flat in Basildon and just sang it in one or maybe two takes. The song wasn't particularly challenging for someone of Alison's abilities. But immediately in the recording there was this sense of seriousness and almost pathos – it was a really great performance.
You then played 'Only You' to Daniel Miller at Mute and he wasn't immediately impressed. I've read that you were pretty close to quitting music at that point. Was that the case?
VC: Pretty much. When I first played the track to Daniel I had gone to his office and he was busy messing about with a synthesizer, as usual, and he didn't seem to be particularly interested. I did think to myself that that was the end of my musical career and I'd need to get a proper job. But that the same evening, the publisher came into the office and he was with a load of other publisher associates and they heard the track and were really enthusiastic about it. That possibly influenced Daniel's opinion.
As you began to create songs for Yazoo, did your songwriting change compared to how you'd written previously for Depeche Mode?
VC: No, I don't think my writing changed. Hopefully my songwriting was getting better but I wasn't writing songs for Alison's voice per se, I was just writing what I thought at the time were quite good songs. I knew that Alison had some ideas for songs as well – she plays piano better than I do – so we just came together and it was a bit of a mish-mash really. There was no concept or theme running through the album; we were just messing about in the studio.
Part of the charm of that album is a naivety. There really wasn't a profound concept that was running through the recording. I didn't really know what I was doing in the studio and Alison hadn't much experience of being in a recording studio, so everything was new. We'd make one sound and we'd think it was great and just stop there and wouldn't make any more sounds. It wasn't like we were continually honing or over producing songs because everything at the time sounded fresh. That's why a lot of the tracks only have eight or nine elements to them.
The title of the album refers to the studio in which you used. What are your memories of the recording process?
VC: We were recording at Blackwing Studios where I recorded the first Depeche Mode album. It was the only studio we knew and the engineer, Eric Radcliffe, was – and is – fantastic. Back then, Blackwing was the studio that Mute were using for all their artists so Fad Gadget was recording his second album at the same time. He was doing the regular hours of 11 in the day until 11 in the evening and so we would get there at about five or six in the morning and just do that early shift.
Ouch.
Read the full interview here >>
Comments