A quick demo of the Blip Blob 2
The Bit Blobs are designed by Dr. Bleep and The Loud Objects (Kunal Gupta andTristan Perich). By connecting their pins together, you are able to explore a huge range of evolving drones and noise loops.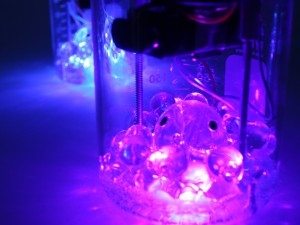 Bit Blob 2
– 1/8″ output dongle included.
– Internal speaker.
– Pulse width control.
Bit Blob Jr
– Same sounds and controls as the Bit Blob 2.
– Internal speaker.
– 1/8″ output jack.
– Available as a kit or assembled noise synth.
Original Bit Blob chip
Use this chip with your Bit Blob 2 or Jr for all the sounds of the original Bit Blob (pulse width control not compatible). More info in the Blob FAQ.
Comments