Akai @ NAMM 2012 – MAX 49
No clue why this video is upside down, but at least you get some good views of AKA's MAX 49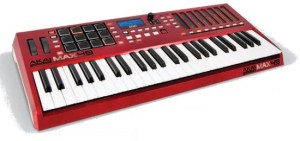 The new Akai MAX 49 Keyboard Controller may look like a typical controller keyboard (albeit well equipped), but it has a number of features that set it apart as one of the most versatile controllers available. Aside from the familiar trigger pads featured on the MPK range of controllers, and the same semi-weighted keyboard, the MAX 49 has features which make it capable of controlling just about synthesiser, past or present.
The Akai MAX 49 is similar in appearance to the MPK range of keyboards, though this model is finished in red. To the left of the unit, 12 velocity sensitive, and backlit trigger pads provide an intuitive way of programming percussion parts, or triggering live samples. These features the swing and note repeat feature made famous on the MPC range of samplers. To the right, 8 touch faders add additional control over the synthesiser or software package currently being used. In terms of controlling synthesisers, the Akai MAX 49 is better equipped than any other controller available. Aside from the more familiar connections, such as a USB socket for connection to a host computer, an a MIDI socket for connecting to other keyboards, sound modules or MIDI equipment, the MAX 49 has a CV & Gate Output, making it capable of controlling vintage (or modern) analogue synthesisers. With the recent increase in popularity of genuine analogue synthesisers, this feature may make it the first choice of controller for those looking to 'go analogue' in a live setting.
The Akai MAX 49 's CV connectivity goes hand-in-hand with another of its features: an on-board step sequencer. This allows patterns to be created on the unit itself and sent to whichever synthesiser is being controlled. An arpeggiator also features. For those who are more rooted in the modern studio, the MAX 49 comes complete with a software package called AkaiConnect. This neat utility automatically maps the keyboards controls to VST plug-ins. To further increase compatibility with software packages, the device can operate in Mackie Control and HUI modes.
The Akai MAX 49 is a great controller in its own right, but the addition the step sequencer, arpeggiator and CV and gate outputs provide a means of adding additional features to an analogue synthesiser, as well as providing a central device for controlling both modern and vintage synthesisers. Is this the beginning of an analogue renaissance?
Comments