All facts on the new Covenant album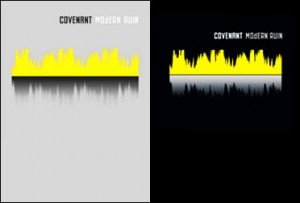 Last week we announced the official release date for Covenant's "Modern Ruin". Here are the full details on the two versions that will be released on January 17, 2011.
The band's 7th studio album will hold 11 tracks with another 7 to be added on the bonus disc included on the limited 2CD version of "Modern Ruin". Notice the presence of "Wir sind die Nacht" which is featured in the German movie with the same name playing in the cinemas right now.
The Limited edition comes with slightly different front cover artwork (see the right cover above), presented in a digipack.
Earlier this year Covenant released the "Lightbringer" EP featuring Necro Facility. Although the physical copy is almost sold out, you can download the 7-track EP on iTunes for not even 4 euro… (direct link to iTunes).
Perhaps you missed our interview with Covenant, read it here >>

Tracks CD1:
01 Modern Ruin
02 Lightbringer
03 Judge of my Domain
04 Dynamo Clock
05 Kairos
06 The Beauty and the Grace
07 Get on
08 Worlds Collide
09 In the Night
10 Beat the Noise
11 The Road
Tracks Bonus CD (Limited Edition only):
01 Wir sind die Nacht
02 Wir sind die Nacht (Oscar Holter remix)
03 Wir sind die Nacht (full instrumental)
04 Wir sind die Nacht (Henrik Baeckstroem remix)
05 Wir sind die Nacht (sample)
06 Ich war nichts (sample)
07 Wunder (sample)
And here are the dates for the 'Modern Ruin' Tour:
Not to forget that they are also playing at ElectriXmas in Sweden (Malmö) on the 18th of December
03.12.2010 RU – Ekaterinburg – Tele-Club
04.12.2010 RU – Moskau – Tochka
05.12.2010 RU – Volgograd – Club Zvezdny
10.12.2010 LT – Vilnius – Loftas
11.12.2010 RU – St. Petersburg – Glavclub
22.01.2011 F – Cannes – MJC Picaud (MIDEM)
04.02.2011 E – Madrid – Sala Heineken
05.02.2011 E – Barcelona – Sala Bikini
10.02.2011 I – Roma – Qube
11.02.2011 I – Vicenza – Totem
12.02.2011 I – Prato – Siddharta Club
24.02.2011 F – Paris – Le Divan du Monde
25.02.2011 B – Gent – 2. Rewind Festival
26.02.2011 NL – Amstelveen – P60
27.02.2011 NL – Enschede – Atak
14.05.2011 GR – Athens – Gagarin 205
17.07.2011 D – Koeln – Amphi Festival – Tanzbrunnen
Comments