An Epic synth for iPad
Developer Jean-Pierre Martineau has released EpicSynth – a new $5 software synthesizer for the iPad. EpicSynth is a polyphonic synthesizer supporting CoreMIDI and Line 6′s Midi Mobilizer MIDI interface.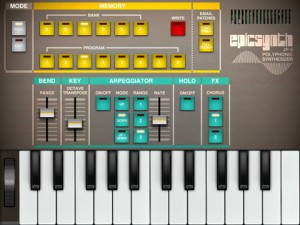 EpicSynth was inspired by legendary analog synthesizers of the 1980s. It's designed from the ground up to be EASY TO USE, POWERFUL, and FUN!
EpicSynth distills the essence of subtractive synthesis into a simple yet powerful app. Epic Synth's sound architecture is simple enough for beginners to learn about synthesis yet powerful enough to satisfy experienced sound modelers. Its straightforward interface is never an obstacle and lets you focus on the essential: the pleasure of creating new sounds!
Details below:
FEATURE LIST:
Transposable two-octave keyboard (C to C) with pitch bend control.
Multi-mode arpeggiator
– Key hold function
– Stores 48 sound patches in 6 banks of 8 programs
Single patch sharing via email
Full memory backup via email
– Compatible with Midi Mobilizer MIDI interface by Line6
– Compatible with CoreMIDI compliant USB keyboards via Apple's Camera Connection Kit
– Four voices of polyphony
EPIC SYNTH IS EASY TO USE
EpicSynth's layout is very intuitive and efficient: you'll spend your time tweaking sounds instead of searching through endless pages of complicated parameters you never use. After all, synthesizers are tools for exploring sound, not exploring user interface pages!
EPIC SYNTH IS POWERFUL
EpicSynth's features have been hand-picked to preserve the essence of classic synthesizers. Without being overwhelming, EpicSynth's sound architecture provides tons of room to create great sounds, from classic leads to juicy acid basses, from 8-bit-like effects to complex evolving sonic textures.
EPIC SYNTH IS FUN
EpicSynth's straightforward layout, inspired by the classic analog synths of the 1980s, yields instant tweaking gratification, while the arpeggiator assists you in creating awesome rhythmic soundscapes. Lose yourself in a sea of virtually infinite possibilities! Be warned that fooling around with EpicSynth can make you lose track of time!
SOUND ARCHITECTURE:
– Each of the four voices has:
– A simultaneous-multi-mode oscillator comprised of a pulse wave with pulse-width-modulation, a sawtooth wave, a sub-octave square wave and white noise generator.
– A standard envelope generator with attack, decay, sustain and release
– A lowpass (ladder) filter with resonance control and modulation routings
– Dual-mode Amplifier using Envelope Generator or Key Gate
– Shared components include
– LFO with adjustable delay
– High-pass Filter
– Chorus effect
Comments