Back in time – Analog electro 80s
All things analog and here among other things you will witness the Jupiter 8.
The Jupiter 8 was Roland's first truly professional analog synthesizer. The Jupiter 8 features 16 rich analog oscillators at 2 per voice, eight voice polyphony and easy programming! At eight voices you can get some pretty thick analog sounds. Easy and intuitive programming via front panel sliders, knobs and buttons for all your tweaking needs. The legacy of the Jupiter synthesizers is due to their unique voice architecture and design, creating sounds that were so unreal and amazing that they have to be heard! No other synths in the world can create analog sounds as cool and authentic as these.

The Jupiter 8 was the biggest and fattest of them all (Jupiters and Junos)! It was one of the first synths to allow its keyboard to be split and layered – it's eight voices of trance heaven! Cross-mod, oscillator sync, a great LFO and a classic arpeggiator are also on-board. There's also two killer resonant analog 24dB/oct filters with 2-pole and 4-pole settings as well as low- and high-pass filtering methods. Unfortunately for the earlier models, tuning was very unstable but that seemed to be resolved in later models. Unlike its smaller counterpart, the Jupiter 6, the Jup 8 does not feature MIDI, only Roland's DCB sync can be found on some models. However, MIDI retro-kit's are available from various companies. Patch presets can store keyboard splits, arpeggiator settings, voice assign mode, hold, portamento and modulation settings.
But you will also notice the fat sound of the TR808: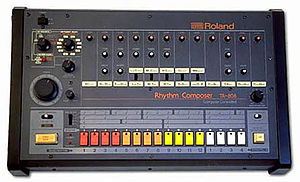 The Roland TR-808 Rhythm Composer was one of the first programmable drum machines ("TR" serving as an initialism for Transistor Rhythm). Introduced by the Roland Corporation in early 1980, it was originally manufactured for use as a tool for studio musicians to create demos. Like earlier Roland drum machines, it does not sound very much like a real drum kit. Indeed, because the TR-808 came out a few months after the Linn LM-1 (the first drum machine to use digital samples), professionals generally considered its sound inferior to sampling drum machines; a 1982 Keyboard Magazine review of the Linn Drum indirectly referred to the TR-808 as sounding like marching anteaters. However, the TR-808 cost US$1,000 upon its release, which was considerably more affordable than the US$5,000 LM-1.
Drum machines in general became an integral part of hip hop music as a cheap and simple way of producing a drum sound. The Roland TR-808 held specific appeal because of the ability of its bass drum sound to produce extremely low-frequency sounds.
In this video:
This video features a Jupiter-8 bass patch U: (21), slightly edited with Fc set to 6 with no resonance. this patch is in poly-1 mode, (half of JPs oscillators used). Also featured is the TR-808 with an original pattern programmed just before the recording. Both the Jupiter-8 and TR-808 are magic machines!
Comments