Brian Eno – Remiix International Feel
Here's a quick demo of the new interactive record for iPad/iPhone from International Feel available from Sept 27 2011. Featuring BPM & key matched tracks from Locussolus (DJ Harvey), Rocha, Hungry Ghost, Bubble Club & Coyote, it gives you the chance to make your own version of these tracks, or make a completely new track out of the component parts of all/any of them.
Buy Remiix International Feel on iTunes:
http://itunes.apple.com/us/app/remiix-international-feel/id463813127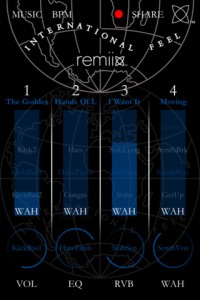 Product description:
To help celebrate their two year anniversary, remix the Balearic sounds of the mysterious label from Uruguay: International Feel. Combine instrumental loops, playful vocals, slo-mo drum & percussion loops and mercury infused basslines, straight from the shores of Vesuvius.
Remiix International Feel is an interactive record, a 2011 version of Brian Eno's 'Generative Music'. You mean you're still listening to the same record over and over again?! It's also a perfect DJ tool, containing six tracks (and their component parts) from the label's roster, presented in an interactive format. The songs are all automatically beat-matched and repitched in key.
The range of sounds is tantalising, especially considering you can really isolate and pick out your favorite combinations. Some standouts include the bassline from "Next To You" – a long loop that turns around with syncopated leaps in the melody, the vocals from "Moving" – smooth house/disco loops that could add a sensual flavor to any mix, or the epic guitars from "Illuminations" – sitting comfortably between disco and early prog rock.
Remiix International Feel includes effects specially tailored to suit the sounds from the label. The first, RVB, simulates early analog plate reverb effects. The other is called the WAH and it lets you add subtle or drastic Leslie rotating speaker effects. You'll recognise the sound as a throwback to the time of 70s disco and electric pianos.
Over the past 12 months International Feel has released tracks and remixes by DJ Harvey, Daniele Baldelli, Still Going, Greg Wilson, Joakim, Quiet Village and many others, as well as breaking new artists like Rocha and Hungry Ghost. This year has also seen acclaimed album releases from Gatto Fritto and DJ Harvey's Locussolus project (from which two tracks are included on this version of Remiix).
Says label boss Mark B: "International Feel is based in Punta Del Este on Uruguay's Atlantic Coast. The label came into existence to create a home for open minded music heads driven by 100% passion and perfection in everything we do. Whether it be the music itself or the vinyl cut… the artwork or the remixes, we strive to create pieces of music and artwork that play with expectations, never drop the quality and become desirable and collectable items of timeless beauty."
Tracklist:
Hungry Ghost – Illuminations
Bubble Club – The Goddess
Rocha – Hands Of Love
Locussolus – Next To You
Coyote – Moving
Locussolus – I Want It
Comments