Combichrist are at it again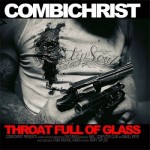 Combichrist continues to bring out new material. This time the band will release its second single taken from the new album "Making Monsters", which was released last summer.
"Throat Full Of Glass" is the title and will be available in 5 different mixes, including SAM and Daniel Myer, plus a video together with the unreleased track "Industrial Strenght". Release date is scheduled in February.
Tracklist:
01. Throat Full Of Glass (Single Edit)
02. Throat Full Of Glass (Tough Guy Mix By S.A.M.)
03. Throat Full Of Glass (Vocal Mix By Computer Club)
04. Throat Full Of Glass (Dub Mix By Computer Club)
05. Throat Full Of Glass (Renegade Of Noise Mix By Daniel Myer)
06. Industrial Strength (Instro-Mental Mix)
07. Throat Full Of Glass (Video – Clean)
Comments