Commodore 64 Drums for Ableton Live SID 8-bit
Commodore 64 SID chip drums for Ableton Live drum racks. This is a cool collection of retro 8-bit drum sounds. There are effects assigned to macro knobs to allow for extreme glitching and subtle finessing.
Download here: http://bit.ly/freesynth51
Samples provided by: http://bedroomproducersblog.com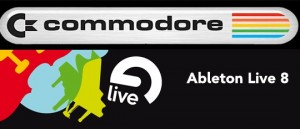 One of the cool things about drum racks is the ability to give the instrument its own send and return channels.  It's a very convenient way to add effects to your sounds without setting up additional channels in your Live set.  So, I've given the Commodore 64 drums three effect sends.  There is reverb which also has control over the reverb time.  Next is a delay, set to repitch, mode, allowing for some cool analog delay effects.  And finally, a New York Style or Parallel compression.  This is a really useful effect for drum sounds because it allows you to squeeze and beef up your sound, but also retains the dynamics of the original.  The rack has control of the pitch of the samples, allowing you to raise or drop them by 48 steps.  As you might imagine, this drastically changes things up.  Finally there is Ableton's Arpeggiator effect, which can be helpful in creating rhythmical patterns.
Comments