Drift chaos modulator plugin – now in version 2.0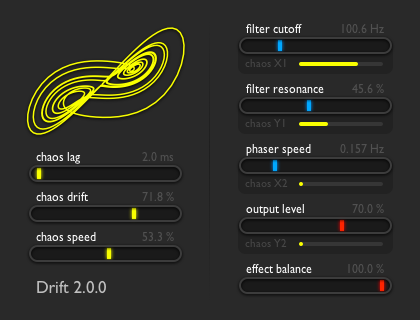 Sinevibes has released version 2.0 of its Drift chaos modulator plugin. It is designed to be a simple but flexible tool that can enrich static sounds with random yet organic motion, create chaotic filter and phaser effects, or add never-repeating, stereoscopic pulsations.
Inside Drift run two instances of the Lorenz attractor algorithm, which is a two-dimensional wave typically used for airflow modelling. Each of the four resulting outputs is separately used as a modulation source.
With the featured four-pole resonant low-pass filter and barberpole phaser the user can create many different stereo chaos effects which are designed to remain organic and natural regardless of the type of the source sound.
Price: $19. The update is free for existing owners.
Comments