Formalin – Dead Fashion
Sex, dirt, deterioration, destruction, fashion and arts, humankind in all its facets and the longing for the extreme: Formalin's music is direct, forceful and hard – a sound that excellently depicts the real life in their hometown of Berlin as well as the inner abyss of the human soul – with all the subsequent extremes and emotions.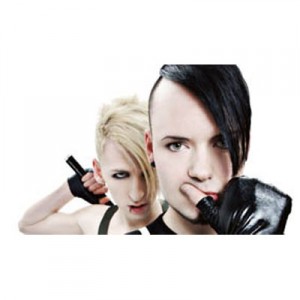 Formalin takes the listener into a dark, postapocalyptic world full of destruction and decay. One cannot help to admire with how much passion the duo has worked on every minute detail to optimize and focus the characteristic and extreme sound. A process that the many live concerts the band has played in the past years have helped to perfect. And on stage, the project unfolds its full conceptual glory and channels the rocking energy inherent in the songs perfectly.
Tominous: Vocals, Lyrics, Music       Gabor: Music, Drumming, Lyrics
Taken from the album: Wasteland Manifesto
Directed by: David Wolff | www.stop-and-motion.de
Camera by: Philipp Dreissig
Music by: Gabor Poszt / Thomas Liebchen
Lyrics by: Thomas Liebchen
Vocals by: Thomas Liebchen
Piano by: Gabor Poszt
Mastered by: Sascha "Busy" Bühren @ TrueBusyness/Berlin
Comments