Freebies when PLP celebrates 10 years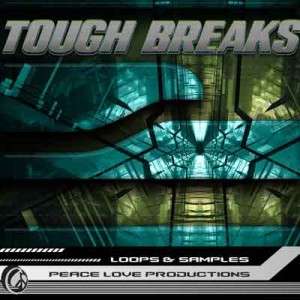 Join Peace Love Productions (PLP) as it celebrates its 10th year of specialized loop packs. For an entire decade, the company has released one pack of royalty-free loops after another, and now Peace Love Productions is giving away Metachemical's Tough Breaks Reason ReFill for free. It's a happy occasion for both PLP and its customers.
Tough Breaks is a Reason ReFill by Metachemical — the ideal collection for producers wanting to create hard-hitting break beat music. This collection includes drum sounds, basslines, synth riffs, and more; it boasts 163 loops, 33 drum one-shots, and 65 MIDI files (of drum beats, synth riffs, and basslines). The beats come with separated drum stems for each instrument, providing kicks, snares, percussion, hi-hats, and cymbals. Also included are synth riffs, basslines, and original sound effects. Likewise, Tough Breaks includes supporting MIDI files for select loops, and its included one-shot drums are mapped out in both EXS24 and Redrum.
Along with Tough Breaks, Peace Love Productions is also giving away a free 1 GB Taster collection to anyone who registers at the company's Web site. The PLP Taster is a sampling of the many different genres that the loop provider has to offer. To receive this taster, visit peaceloveproductions.com, sign up for it, and verify your email address. A download link will be sent to your verified address immediately afterward.
The PLP Taster is a two-part download containing two zips with loops in 16-bit and 24-bit stereo ACIDized WAV. Genres include hip-hop, rock, trance, electro house, deep house, chillout, trance, techno, DJ scratches, industrial, ambient, and more.
According to the manufacturer, PLP was one the very first to offer specialized loop packs. While other companies were releasing audio sample CDs that you had to extract and edit your self, PLP was offering edited ACIDized loops on data discs.
Background check (courtesy of PLP): "PLP got its start by producing content for Sonic Foundry's ACID Dj 3.0 back in 2000. One of the founders of PLP (Jason Donnelly, also known as DJ Puzzle) worked at Sonic Foundry from 1998 to 2000 and during Christmas break he received a phone call announcing he had just lost his dream job due to corporate downsizing. Thankfully he was kept on as a freelancer for many months after that editing and ACIDizing for their wonderful loop discs.
"The ACID DJ gig gave these two a nice little kick start and so they moved on to create even more underground dance loops. They ran a mail order business and printed the CDs as the orders came in. We thank you for supporting PLP and for helping us grow so that we could get inspired and in turn inspire others. To show our appreciation this whole time we have been giving back to the community. For over ten years without skipping a beat, so to speak, PLP has sent out 20 free loops every month to subscribers. Don't forget to grab this months set by the way! Keeping it real for the sake of music."
For more information on Peace Love Productions loop packs, visit peaceloveproductions.com.
Comments