Getting deep in to the power of LFO
Dark Energy, a monophonic desktop synthesizer conversant in Volts, MIDI and USB. With a single oscillator, low-pass filter and ADSR envelope plus two LFOs, its feature set looks fairly basic, but to encourage modular fraternisation, it adds a cluster of patch connections. The Dark Energy has three internal sources of modulation: two LFOs and an ADSR envelope. The LFOs offer just triangular or rectangular waveforms and each has a red/green LED, the colours shifting to track the phase of modulation. Low, medium and high frequency ranges may be selected, the latter hoisting LFO frequency to around 5kHz. Modulation at audio rates is your ticket to pseudo-ring-mod atonality, whilst the slowest ("up to a minute") LFO speed is ideal for those slothful moments. The envelope is entirely conventional, with just one slight twist. It has three operational ranges scoped for precise, short envelopes, envelopes suitable for solos or general performance, and long drone-type settings. Droners everywhere take note: the maximum attack time is almost a minute.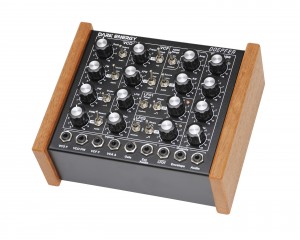 In this video:
Controlling Analogue Solutions Telemark's filter with Doepfer Dark Energy LFO. Dark Energy has an incredibly high LFO rate and can make for some interesting sounds when paired with the Telemark.
Gear used:
Analogue Solutions Telemark
Doepfer Dark Energy
Vermona DRM1 MkIII
Comments