Image-Line releases Harmor – new virtual synth
Just like it's predecessor Harmless, Harmor is powered by a powerful additive synthesis engine. Its modules will look familiar to subtractive synthesizer enthusiasts: oscillators, filters & phasers, these are featured in Harmor but, because they are performed through additive synthesis, offer more freedom.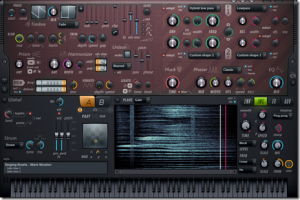 Get Harmor here – http://www.image-line.com/documents/harmor.html
Harmor – featuring a unique and modern additive synthesis engine that emulates classic subtractive synthesis as well, taking sound generation to the next level.
Additive / subtractive emulation – generating sounds not possible with traditional synthesis methods, including the ability to draw custom filter shapes, and offering precise control over every aspect of the sound conception. Image & Audio Resynthesis – allowing a faithful, sampler-quality resynthesis of audio, not a vague sound-alike often met in additive synthesizers. Images too can be imported and turned into sound. Envelopes and articulation – as originally seen in Image-Line's flagship synthesizer Sytrus, are taken to new levels of features, flexibility and GUI integration. Sound creation – possibilities are endless, but not bewildering. Stutter, mangle, stretch, pitch and manipulate both audio and images beyond recognition.
List of known issues they are going to fix:

the VSTi installer still has the beta warning from the previoius beta installer saying this is a sneak peak
it crashes in Live 8.2.5
The FL Studio version will be included in the next FL Studio release ( 10.0.8 ) which is available only to
Harmor users for now until it's picked up by our hosting services.
Comments