Interview: Dave Gahan – An Inside Look at His Very Personal Studio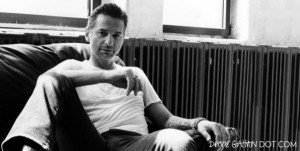 Sonic Scoop has a new interview out featuring Dave Gahan of Depeche Mode – taking a closer look at his studio in NYC:
New York City and rock stars were made for each other.
Depeche Mode's Dave Gahan has many good reasons to settle in NYC.
Wherever in the world these musical success stories – and we're talking the multi-multi-multi-multi platinum variety here – come from, NYC still has the power to go from tour stop to adopted hometown for waves of them.
Rock stars move to NYC not to stand out, but to get swallowed up among the teeming millions. But they also continue to create — and with the well-deserved financial windfall that often comes with recording global smash hits, they can take personalized approaches to their creative spaces.
Today's case in point: Dave Gahan, whose unmistakable voice has been central to the sound of Depeche Mode since that landmark band bowed in 1980. A group with an unmatched ability to produce timeless electronic dance music, Depeche Mode's shockingly original songs are permeated with intellectual depth, elegance, and artistic devotion.
Little wonder this is one of the most successful bands of all time. They can claim over 100 million in record sales, and their members have collectively faced 30 million audience members in concert – thanks to a parade of huge hit singles including "Enjoy the Silence", "Just Can't Get Enough," and "People are People".
The band's 13th album is on the way now, due for release coincident with a tour in 2013. And expectations will be high. Dave Gahan, Martin Gore, and Andy Fletcher earned a GRAMMY nomination for their last album, 2009's Sounds of the Universe. While his Depeche Mode bandmates transfix with their musicianship on that engrossing record, Gahan's voice comes through with increased agility – wiser while still somehow sounding younger and more athletic.
Even more recently, Gahan got a turn as lead vocalist for the famed production duo of Rich Machin and Ian Glover AKA Soulsavers. Their just-released collaboration, The Light the Dead See hears Gahan's vocals grow even more cinematic in scope, in emotionally massive songs like "Gone Too Far" and "Bitterman". The thought that Gahan could come completely uncaged on the next Depeche Mode album is tantalizing.
Personal Studio, Personal Choice
Gahan has acquired a beautiful vehicle for getting there via his innovative private studio here in New York City. Built into a residential apartment separate from his own home, Studio Blanco has been constructed with a clear mission: capture one of modern music's most iconic voices.
Kurt Uenala engineers all at Blanco Studio. (all studio photos in article by David Weiss)
The pilot flying this plane is Kurt Uenala. A Swiss-born engineer/producer with sharp engineering skills, deep production experience, programming and songwriting abilities, and an amiable personality, Uenala is a versatile presence at Studio Blanco, helping Gahan to get where he wants to go – as quickly and easily as possible.
Even though Gahan can – and does – make ample use of NYC's world-class suite of commercial recording studios, Uenala points out that a personal facility is essential for an artist on this level to write, demo new tracks, and also record final vocals – as was done here for many of the Soulsavers and upcoming Depeche Mode songs.
"Money is not necessarily a big issue with successful bands, but still at $2500 a day in a commercial studio, you can't be as experimental as you can be at home," he says. "You can work at a personal studio any day and any time, and that can be a big part of the creative process. The mindset becomes, 'We arranged and finished a song a certain way, but can redo it from scratch if we feel like exploring further.'
"The end result is better than a big room with all of the drama gear. We can book a studio like that for a month, but when that time is up, Beyonce is coming in – so you have to go. At that point money doesn't help: It's booked. Not having a deadline is wonderful, and so is knowing the room in and out."
An Unusual Recording Home
"The room", in this case, is a personal studio operating on a high very level. The obvious centerpiece of the sun-kissed residential space is a space-age white hut which occupies a large portion of the main living room, without engulfing it – plenty of space remains in the room and the rest of the apartment to provide headroom for writing and relaxing.
The acoustically isolated structure is made by the Barcelona-based company Studio Bricks. A "self-assembly cabin system" that can be constructed by one person in a short amount of time with minimal tools, Studio Bricks are acoustic solutions made specifically with artists, engineers and producers in mind.
According to Uenala, Studio Blanco's big white box represents the first Studio Bricks deployment in the US. "They're modules that are really Legos – they snap into each other, but they're made of sandwich wood and rubber," he notes. "It's been here since September, and it really works sonically and in terms of providing acoustic isolation. It reigns in the sound not just of the vocals being recorded, but also of productions and mixes – we have to be able to turn it up.
Comments