Mark Mosher and AfroDJMac Zebra Attack Ableton Rack 2
Free Ableton Live Pack from AfroDJMac and Mark Mosher. u-He's Zebra was programmed by Mark Mosher and the sampled waveform he created was used by AfroDJMac to build this Rad Ableton Live Device. Combined with some interesting effects and a layer of Ableton's Operator, this instrument makes sounds from soft and gentle to fierce and violent!
Download the Instrument at: http://bit.ly/freesynth40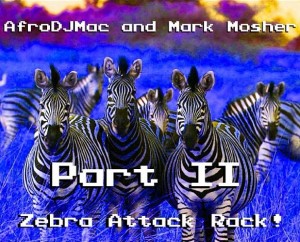 This week's Free Ableton Live Rack is part two of my collaboration with sound designer and producer extraordinaire Mark Mosher.  Using the same sample from the original Zebra Attack Rack, I've set this one up to be a bit less random and offer you more control over the different sounds.  What permits the wavetable to be played as a melodic instrument is the very short loop of the sample.  I've set up a control that allows you to alter the starting point of the sample, which lets you to severely alter the timbre and harmonic structure of the sample.  There's another macro knob that controls which portion of Mark's wavetable you will be hearing.  I've added a bit crusher, chorus and flanger, which can be added to taste.  Finally I've stacked this synth with Ableton's Operator.  The device allows you to control the Operator's waveform as well as volume. This will allow you to mix in another layer of sound until you achieve your desired sound.  The resulting instrument is one that is dramatically different from the original Zebra Attack Rack, and is also one that can yield an extremely wide array of sounds.  At one time soft and mellow and at other times, harsh and biting, I think you'll find the Zebra Attack Rack II an exciting instrument to play with!  Enjoy!
Comments