Meteor Multi Track Recorder for the iPad released
Developer 4Pockets has released Meteor – a new digital multi-track recorder for the iPad. The program features up to 12 tracks of digital audio, a built-in mixer and multi-effects processor.
According to the developer, Meteor is 'ideally suited for creating musical compositions, and also a great tool for journalists and business people who need to splice and piece together voice notes, narration or dictation'.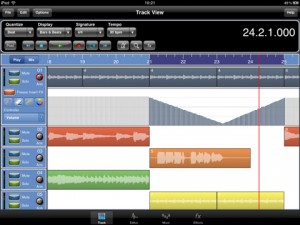 Meteor includes a full-featured sound editor, allowing recordings to be trimmed or spliced together. You can apply various effects to your recordings either directly, as part of the recording process or in real time during playback. Editor features include cut, copy, paste, fade in/out. clear, reverse, gain, normalize, remove DC offset, time stretch and pitch shift. Effects include digital delay, chorus / flanger, reverb, graphic equalizer, tone boost, compressor (with side chaining) and distortion.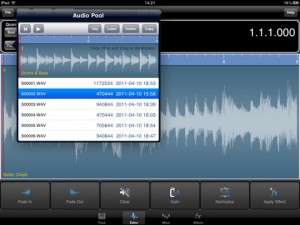 Recordings can be exported to standard file formats.
Features:
Record up to12 tracks of CD quality audio
Multi-Effects Processor
Integrated 12 channel Mixer
Integrated Sample Editor
3 Global Send Effect Busses
Insert Effects with freeze facility to reduce CPU load.
Record Effects & Record Monitor
Mixer and Effect Automation
Metronome
Mixdown / Bounce Facility
Import samples and iPod songs.
Export to compressed CAF and WAV formats
Automatic Delay Compensation
In-App Purchases through the Online Shop found in the Help Menu.
Pricing and Availability
Meteor MultiTrack Recorder is available now for US $19.99.
Link:
Comments