MFB Step Sequencer in neat collaboration with the Monotribe
Details:
Korg Monotribe
MFB Seq02
WMD Gamma Wave Source
c1 -1v/oct gamma wave source
c2 -wt1 cv gamma wave source
c3 -wt2 cv gamma wave source
c4 -monotribe sync in
c5 -para cv gamma wave source
the sounds you hear are from the output of the korg monotribe with no aditional processing
Product feature – MFB Step sequencer: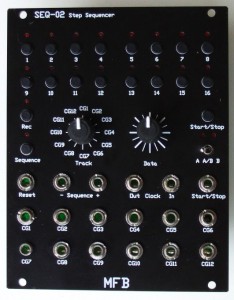 SEQ-02 is specialized in rhythm- and sequence programming.
SEQ-02 can be used as a sequencer with 6 CV- and 6 gate-outputs. Alternatively, it may also be used with either 12 CV- or 12 gate-/trigger-outputs. SEQ-02 allows creating 16 sequences with up to 32 steps each. The sequences can be stored and offer 6 or 12 tracks. In addition, an A- and B-part allows building 2-bar-sequences using the A/B-switch. Use trigger impulses at inputs "Sequence +" and "Sequence –" to switch to adjacent sequences. Start/stop and tempo (clock) can be either controlled directly at the module or remote-controlled through external signals. Of course, SEQ-02's start/stop and clock can act as a master for other sequencers. The RESET-input allows switching the current sequence back to step 1.
Beyond using SEQ-02 to trigger drums and envelopes, there are countless options for trigger-impulses in a modular environment. These may be used for sample&hold, switches, clock-dividers/sequencers or logic-modules. This allows to create rhythmic events, where usually a straight clock would be used for triggering, e.g. in S&H- or clock-dividing-modules. Thanks to the big number of CV- and trigger-tracks, SEQ-02 will always allow for some extra assignments beside the drum-groove.
The module has a width of 100 mm (20 TE).
Comments