Midi Fighter 3D Controller from DJ TechTools
For more information and to preorder: http://www.djtechtools.com/2012/02/27/introducing-the-midi-fighter-3d/
DJ Tech Tolls tells us that their MidiFighter has now been released, here's their pitch:
Today we're very proud to usher in the newest DJTT creation: The Midi Fighter 3D controller.  Equipped with 16 RGB arcade buttons and full three dimensional tracking of the controller's movement in space, this latest addition to the Midi Fighter line is our most ambitious and expressive creation to date.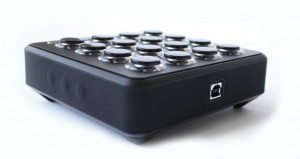 Key Features:
Fully customizable high performance RGB arcade buttons 
4 banks of controls
6 side buttons 
Optional hand strap for full instrument control
Full 3D motion tracking of five degrees of movement (Patent Pending) 
Highly grippy rubberized feet and sleeve 
Gyroscope, Accelerometer and Compass for absolute orientation tracking.

Comments