Mode Machines SID (Sneak Preview)
"Hello ladies and gentlemen, here you can find our new product SID. We work real hard to present the new SID as soon as possible.
Coming real soon! "
The latest hardware melds the classic chip sounds of the SID chip with an x0x sequencer a la the Roland TB-303. The preview also reveals more of how this unit works, including per-note modulation and sequencing features. Earlier this year, they added a Mac/Windows/Linux editor; now, they're adding an iPad editor as well.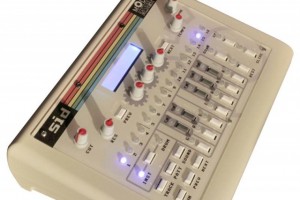 Features:
Built around the original MOS SID chip, as heard in the Commodore 64, at least in the first 300 units.
x0x control layout
Step sequencing
3 expression knobs for macro controls of each patch
Bundled editor software (see the video below, from earlier this year)
NERD-PANEL, "a powerful interactive blueprint which enables you to address the chip one pin at a time – also a great educational tool."
100+ Patches.
50+ Wavetables drum sounds/effects.
Audio in, out; MIDI in, out. USB connectivity for MIDI control, too.
Onboard display.
German and English documentation.
More informations @:
www.modemachines.com
www.facebook.com/modemachines
www.modemachines.tumblr.com
www.twitter.com/modemachines
www.flickr.com/photos/modemachines
www.myspace.com/modemachines
Comments