Moog releases the Devine Expansion Pack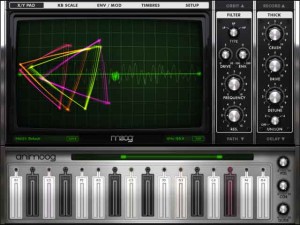 Moog has released an Expansion Pack for Animoog. They say that each Expansion Pack for Animoog contains powerful presets that inspire creativity as well as new timbres for creating sounds completely unique to you.
Created by Richard Devine, Moog tells us that the Devine Expansion Pack infuses an array of new and unique sounds into Animoog's Anisotropic Synthesis Engine. They say that, from ethereal lead sounds to sci-fi insanity, the Devine expansion pack takes total advantage of Animoog's uniquely expressive keyboard, modulation and timbre array.
The Devine Expansion Pack includes 32 original presets handcrafted by Richard Devine himself. Also included are 43 new Timbres nearly doubling Animoog's sonic vocabulary.
Richard Devines speaks on his The Devine Expansion Pack,
"I have been a fan of Animoog since the day it was launched. Animoog's ability to mix and match classic analogue waveforms and also digital waveforms is amazing! Being able to sweep, automate, and control them within the Anisotropic Synth Engine is what makes it such an expressive tool for creating new sounds. With the Devine Expansion Pack, I wanted to develop a sound set that took full advantage of all Animoog's features. Something that was unique and could be played musically or controlled chaotically. The ultimate goal was to create a set of futuristic synth sounds that inspire new ideas and new music."
Pricing and Availability:
$1.99
More information:
Comments