More Mute classics :-) on stage
Josh T. Pearson brilliant adaptation of Depeche Mode's "Enjoy the Silence" and Erasure's "A little respect".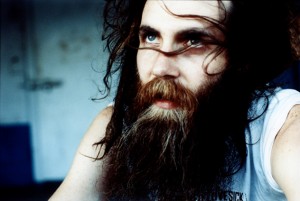 Josh T. Pearson is a musician from Texas. In 1996 he formed the short-lived but now critically acclaimed band Lift to Experience, who released one double album, 2001's The Texas-Jerusalem Crossroads, before splitting up soon after. Lift To Experience played live shows and became a favorite of the Denton, TX music scene. They also were played many times on the radio show The Adventure Club with Josh in Dallas on KDGE The Edge. Bella Union saw the band at South By Southwest and they were signed shortly after. Pearson is currently pursuing a solo career, which so far has consisted of a number of tours, both headlining and supporting. Pearson no longer plays any Lift to Experience songs live.
Pearson has not released an album or much else in the way of recorded material since the demise of Lift to Experience. In the meantime Pearson has been selling a variety of self-produced live recordings at recent gigs, including a bootleg album To Hull And Back and a DVD single Live In Paris. He featured on a guitar and backing vocals on two songs, "Seal Jubilee" and "Trophy" on the Bat for Lashes album Fur and Gold.
The only solo studio-recorded song to be released for almost ten years is a cover of Hank Williams' song "I'm So Lonesome I Could Cry", which was released as one half of a split 7″ single also featuring Dirty Three. Pearson has notably performed at the All Tomorrow's Parties festival several times over the last few years.
Comments