New album from And One this spring
German EBM act And One, consisting of front man and lead singer Steve Naghavi, backed by Chris Ruiz, Gio Van Oli, released the latest "Bodypop" in 2006, which was updated with three new tracks and was released again in 2009 as "Bodypop 1 1 / 2 ".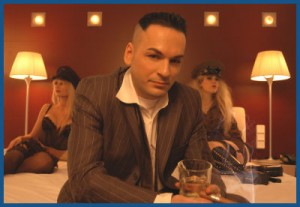 But now the trio are finally back with brand new material. The single "Zerstörer" released in January, followed by new full length album "Tanzomat" scheduled for March 2011. The filling single / EP 's comes in addition to the title track with two more songs and as an added bonus, it also brings together three live recordings from the last tour.
"Zerstörer" released January 14 via Out Of Line and Metropolis Records for Europe and North America.
Tracklist:
Zerstörer
Sex Drive
No Song For You
Mirror In Your Heart (Live 2010)
The Secret (Live 2010)
Military Fashion Show (Live 2010)
Military Fashion Show (Original Version)
Zerstörer (Peine I.S.T. die Ansage 2011 Mix)
Comments