New drum kits from Propellerheads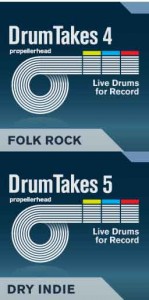 Propellerhead Software has announced the immediate availability of volumes 4 and 5 of their Record Drum Takes ReFill series: Folk Rock Brushes and Dry Indie. Here's what they have to say about them…
Record Drum Takes brings big league rock and pop multitrack drums played by skilled session drummers to Propellerhead Record. Record Drum Takes builds a steady foundation for any rock or pop creation.
Vol.4 Folk Rock Brushes comes as two complete folk rock-sounding drum backing tracks played with brushes. Both have plenty of warmth and character. The track Pite plays along at 80 relaxed beats per minute while Simris plays at 120 bpm.
Vol. 5 Dry Indie offers two tracks that owe plenty to 70s production aesthetics. Their dry sound and tight playing style make these drums perfect for songs in a wide range of Indie related styles. Emmaboda plays at 90 bpm while Lund chugs along in 6/8 beat at 85 bpm.
The differently styled tracks in the Record Drum Takes ReFills all come as multitrack recordings, allowing users to freely shape the drum sound by adjusting the levels of the independent kick, snare, hihat, room, ambient and other microphones. Cut across all eight drum tracks to arrange and rearrange once the drum sound has been mixed to perfection. Play along to the RDT drum arrangements, or paste them into an existing song. The entire drum mix will follow right along, and utilizing Record's automatic time-stretch, Drum Takes instantly adapts to the song's tempo.
Included with the ReFills are also multisampled versions of the kits, for adding that extra snare or crash cymbal right where it's needed.
Although recorded using state of the art technology in a professional recording facility and performed by an experienced drummer with an unmistakable feel–the playing in these ReFills is sparse and to the point: a perfect foundation for any alternative, pop or rock production.
Pricing and Availability:
All five Record Drum Takes ReFills are available exclusively for download through Propellerhead's web shop today, at EUR €29 / USD $29 each.
More information:
Comments