New powerful electronic drumsets from Alesis
Alesis has announced the availability of two new electronic drumsets: the DM10 X Kit , a professional, six-piece electronic drumset, and the compact and affordable DM6 Session Kit . Alesis' DM10 X is the flagship of two new digital drumset offerings. The comprehensive DM10 X (MSRP: $1,999.00) is centered around the DM10 module and the all-new XRack, offering an expansive six-drum, four-cymbal configuration with sizes and spacing designed to feel natural to acoustic and electronic drummers.
The DM10 X provides a 12-inch snare, two 10-inch toms, two 12-inch floor toms, a 12-inch hi-hat, a 16-inch three-zone ride cymbal and two 14-inch crash cymbals. The DM10 X Kit's chrome-plated XRack is rugged and features an ultra-solid four-post design and new Alesis quick-release clamps that secure each pad in place and allow drummers to quickly rearrange their setup without tools, and without having to take the rack apart.
Alesis' more basic DM6 Session Kit (MSRP: $599.00) includes the DM6 drum module with more than 100 sounds, a new ProRack II drum rack, five drum pads, three cymbal pads, hi-hat and bass drum pedals, plus drumsticks and a drum key.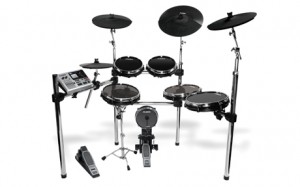 The DM6 Session Kit's compact rack and quiet rubber pads give drummers a versatile instrument that takes up minimal space and is quiet enough to play at any time. The ProRack II comes preassembled in the box for a fast, easy set up. In addition, Alesis announced that the SamplePad multi-pad instrument, which allows drummers to easily load their own sounds, will be available in Q1 of 2012 for MSRP $199.
Comments