New series – Legends of electronic music
Created in 1963, Tod Dockstader's Water Music appears on Starkland's first CD (Quatermass ST-201). Sound sources include: water, toy gong-rattles, finger bells, sheet metal, test generators, water glasses, Coke bottle, metal garbage can, a nail.
Wired Magazine has started a new series on their online website called "Legends of Electronic Music", well worth checking out, here's how they describe it:
Wired's new series Legends of Electronic Music explores the history of electronic music through in-depth interviews with some of the field's pioneers. The series kicks off with a rare interview with trailblazing American electronic composer Tod Dockstader.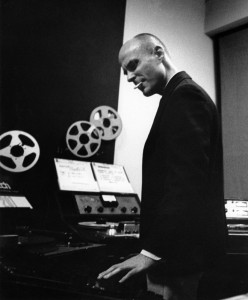 In the 1940s, before magnetic tape was widely available in the United States, electronic music pioneer Tod Dockstader made low-fi recordings on steel wire.
"I loved the idea of the wire singing," Dockstader said in a recent interview with Wired. As a high school student in the '40s, he used the end of a lit cigarette to make splices in the thin wire, in a painstaking and risky process.
"You had to tie the wire, which was very fine, in a perfect square knot," he explained. He would hold the wire up to his nose, with the cigarette perched in his mouth. A single wrong move and the edit could be destroyed.
"I became very adept at editing," he said. "I really liked editing; I understood it. To me, it was really basic stuff. You could make decisions — take things out, put things in. I liked that you were building something."
Born in 1932, Dockstader was part of the first wave of electronic musicians, who, before the advent of synthesizers in the early 1960s, worked with whatever hardware they could find: reel-to-reel tape machines, sine wave generators and a wild array of homemade circuits and military surplus gear. In the process, they created a universe of electronic music that still sounds unique and prescient today.
The wire recorder Dockstader used to create electronic music was a piece of used military equipment. "A lot of this [electronic music] happened because, after the war, a lot of the stuff was available," Dockstader said. "Normally a person, a civilian … wouldn't be able to get that tube, this device or that device. That fascinated me."
In the late 1950s, Dockstader worked as a sound engineer at Gotham Recording Studios in New York. At night, he worked on his own music, which eventually led to a series of impressive albums of electronic music, including Apocalypse (1961), Quatermass (1963) and Omniphony (1966).
"I was always working at night — deep night," Dockstader said. "And I'd be very careful. If they found me in a studio — just me — I would have lost my job."
Comments