Rockit DIY 8bit synth is now launched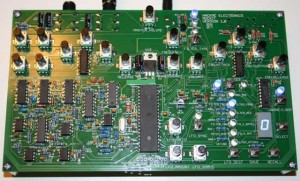 HackMe Electronics has announced that the Rockit synth – their DIY 8-bit synthesizer project – has shipped.
Rockit is an open source analog-digital hybrid synth, created by Matt Heins. Heins says that he's shipped about 175 Rockits in some for (assembled, kits or PCBs). The Rockit is now available assembled for $229, or as a kit for $139.
Features:
Two Mixable Oscillators with 16 Waveshapes/Sounds and Detune
Analog Voltage-Controlled Amplifier with ADSR controls
Digitally Controlled Analog Filter with Selectable Low/Band/High Pass and External Audio Input and Independent Envelope
Two LFOs with 16 Waveshapes and 6 Destinations Each
MIDI In and Out
Open Source C Code with an AVR Microcontroller
16 Slots for Patch Save and Recall
You can preview the sound of the Rockit synthesizer below:
Comments