Roland SH-101 and CR-8000
The CR-8000 produces classic electronic drum sounds that hint back to the famous CR-78 and TR-808 drum machines. But none of these sounds are editable and there is only one mono audio output making this machine less of a studio-piece of gear and more of a collector's item. Aside from these limitations it, like other CompuRhythms, has a series of preset patterns in many different styles as well as programmable patterns with 8 storage patches. While the CR-8000 is usually sampled for today's applications, the thing about the CR-8000 that cannot be captured by sampling the sounds is the swing/groove feel which has its own control knob. The intervals between beats are variable, but also the timbre changes.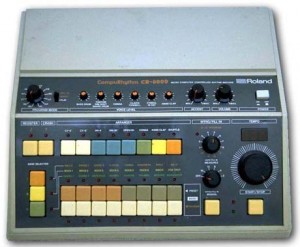 In this video:
Short (minimalistic) demo made only with SH-101 and CR-8000. Delay was provided by Boss DE-200. I should note that i modified my CR-8000 with individual outputs. Therefore, your CR-8000 might not sound like this, as each channel was separately EQ-ed (on a Soundcraft desk). No compression was used.
Comments