Salad Bar's keep getting bigger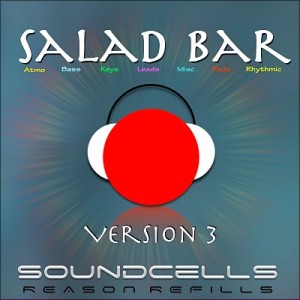 Salad Bar from Soundcells showcases a magnificent collection of Reason patches brought together in this ever growing ReFill since many future patches in the upcoming ReFill range from Soundcells will be added to Salad Bar…
Every time when a new Soundcells ReFill will be released, Salad Bar will get its next update. And in this way Salad Bar versions 2, 3, 4 etc, will be created. Besides this, Soundcells will also be developing lots of unique 'Salad Bar Only' patches. With the coming of Digital Genome (http://www.soundcells.de/refill_genome.html) it was clear that it wouldn´t take very long for Soundcells´ evergrowing Salad Bar ReFill to get its latest update. So they put 16 mind blowing Digital Genome patches in there and they also added 10 exclusive Salad Bar patches (45 SB exclusives in total now). With its 190+ combinators this ReFill becomes more and more a fully-fledged workstation. Apart from that it´s a real bargain for the user and an excellent ambassador for Soundcells.
Soundcells' Signature Sound:
Salad Bar's patches will cover all kinds of music styles showing you the very best Soundcells has to offer. It's a great ReFill to get to know Soundcells' work, introducing you to their signature dimension in designing sound.
Salad Bar Contents:
• 192 combinator patches (currently 45 'Salad Bar Only' ones).
• 8 different folders: Atmospheres & Textures, Bass, Keys, Leads, Miscellaneous, Pads, Rhythmic, SaladBar_exclusive.
• The modules folder contains the basic synth and NNXT patches which were used for the combinator sounds.
• 194 well balanced patches for Thor, Malstroem, Subtractor, NNXT and ReDrum.
• 45 rex loops
• 8 tracks in RNS format – inspiring with highl 'tutorialesque' value.
A web address to link to for more info and many "Salad Bar" only MP3s:
http://www.soundcells.de
Price per Unit is 9,90 ,- EUR
Comments