Sine+Noise Synthesis, featuring 3D displays
Related to this week's buzz around the new Waldorf synth, Wolfgang Palm has shared a link with information that might give us more info on what the new project is all about: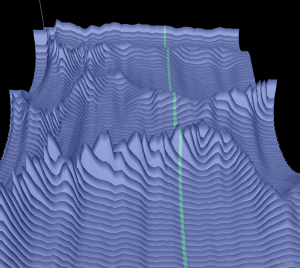 Sine+Noise modelling is an analysis/synthesis technique, where an audio signal is decomposed into sine waves plus an additional noise signal.
I started developing such a system in 2003, and refined it over the years. It is now sold to Waldorf. The release is planned later this year.
The advantages of Sine+Noise modelling:
all audio signals can be resynthesized
each partial sine wave can be edited individually in its loudness contour
time/pitch manipulation in a wide range
morphing of totally different sounds possible
arbitrary filtering in the frequency domain
My Synthesizer features 3D displays, which allow easy editing of the audio components directly.

Sound editing in a spectral 3D displaySound editing in a spectra

Wolfgang Palm | Myspace Music Videos
Comments