Solvent's new video – "Curtains"
"Curtains" by Solvent. Toronto based Jason Amm (aka Solvent) has been making underground electro pop for over a decade now – since electro's second wave. He loves analogue synthesizers – which date back to the early days of the genre, and he loves singing through a vocoder. What's not to love? His greatest hits CD Demonstration Tape (1997-2007) is essential listening, and his song "My Radio" should be heard by anyone who likes any kind of pop music.
Video directed by Jonathan Morris. Please be sure to check out his excellent video work via his YouTube channel:
http://www.youtube.com/user/roadkillcopulator
Footage shot by Solvent.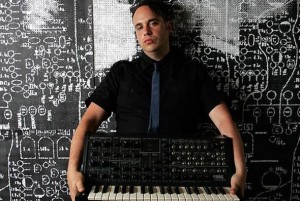 "Curtains" is taken from the 12-inch-vinyl/digital release "RDJCS5-ep" (09/2011, Suction Records – suction022).
Available to purchase through BandCamp:
http://solvent.bandcamp.com
In-depth technical info:
http://modyfier.wordpress.com/2011/07/25/solvent-process-part-271/
In April 2006, a Yamaha CS5 monosynth, having been owned by Richard D James (Aphex Twin), with the actual liner notes for his landmark "Selected Ambient Works Volume II" etched into the bottom, was sold at VEMIA auction for approximately $1200 – a bargain in retrospect. The winning bidder was, in fact, a friend of Solvent's, and the synth resides not in a display case, but in Solvent's studio, on generous long-term loan.
"RDJCS5", a new 4-track 12-inch / digital EP by Solvent, is the result. Each and every sound on this record came from RDJ's old CS5, painstakingly programmed and multi-tracked by Solvent over the course of several months. The limited capabilities and sound palette of this humble little synth provided quite a challenge, but ultimately the results are not merely an exercise in technical synthnerdery; "RDJCS5″ speaks more of Solvent's musical kinship to thee Analord.
The 12" vinyl edition is limited to 300 copies, in brown chipboard sleeve with sticker, and also contains an additional noise/drone piece at the end of side B. Entitled "Sandpaper", this cut will be individually hand-etched by Solvent, for a 1-of-a-kind cut/click/loop experience.
Comments