Space Palette at STEIM
A performance by Tim Thompson on the Space Palette at STEIM (see steim.org) in Amsterdam. This three-dimensional instrument uses the Microsoft Kinect to translate hand motion directly into both music and visuals. It's like having four 3D mousepads in mid-air. See http://spacepalette.com for more information. Thanks go to Vivian Wenli Lin for the recording.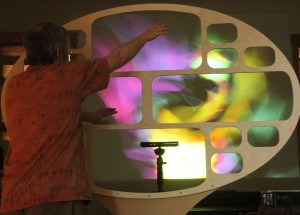 The Space Palette is a Kinect-based instrument used to perform music and graphics simultaneously, controlled directly by your hands. The picture above shows the newest version, which you can see in action in this video of an open house performance on the Space Palette. The new version also appeared at the Sea of Dreams 2012 New Year's Eve party in San Francisco. At that event, it was only doing graphics, because it was too loud to do anything else. The previous (rectangular) version of the Space Palette can be seen in this video of people playing with it at Burning Man 2011. Search YouTube for "Space Palette" to find other videos.
Technical details about the latest version can be found in these slides from a talk about the Space Palette. I'm now using Resolume as a FreeFrame host, which I highly recommend.
Source code and a Windows executable for the core bit of software (that talks to the Microsoft Kinect, recognizes your hands within an arbitrary flat surface with holes, and sends out TUIO/OSC messages that can drive whatever you want to control) is available here. If you're interested in a more recent version of that software, send email to me at timthompson.com.
Comments