Synth spotting: Yes – Geoff Downes Live Rig
A quick video of Geoff Downes live rig for the 2011 YES tour – recorded at Bristol Colston Hall. Sorry but its only a very quick video – problems with my phone…. Maybe next time….
Geoffrey "Geoff" Downes (born 25 August 1952) is an English rock keyboard player, songwriter, best known as the keyboardist for the bands The Buggles, Yes and Asia, of which he is the only consistent member. When he was a keyboardist for The Buggles, he played multiple keyboards to achieve a New Wave technopop sound. He was once entered for the Guinness Book Of Records for performing with the most keyboards (28) on stage in one performance.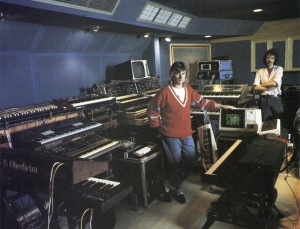 Comments