Taking a closer look at the Mixr 1.1 Update – Sample Pad
http://youtu.be/q64JYj3SOXc
Featuring a 9-Pad Sampler and a completely redesigned UI, Mixr 1.1 makes it easy to add that extra layer of awesome to your mixes! Check out the all-new 1.1 video on youtube and check out the full list of features and improvements on our blog. Think adding a wicked sampler pad to your decks is going to cost you big time? Wrong! Mixr 1.1 is a free update for existing users. Just our way of saying thanks to our users for all the incredible support over the past two months.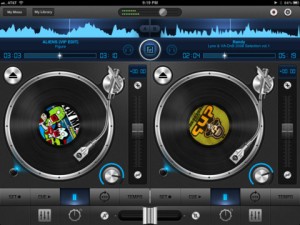 Description:
Mixr was designed to capture and redefine the mobile DJ experience.
Mixr delivers a rich feature set designed for mobile DJ's. You can pitch, tap to tempo, scratch, multi-cue and mix with precision. You can manage your iPod library with the revolutionary Crate Manager. Make crates with the touch of your finger in the drag-n-drop interface, you have complete control over your mixes. Featuring high quality DSP effects, you can add Delay and Reverb to your mixes to add that extra punch to your sets. Supporting mono split audio output, you can monitor pre-cueing with your headphones for live performances. Record your mixes and play them back in a sleek player. Recording a mix automatically creates playlists! Turn your iPad into the best mobile DJ Turntable Studio, with Mixr.
Features
Interface
✓ Dual Multi-Touch Turntables
✓ Audio Waveforms
✓ Multi Cue Loops
✓ Tempo
✓ Equalizer
✓ Effects
✓ Quick Loader
✓ Double-Tap Slider Reset
✓ Manual Crossfader
✓ Crate Manager
✓ Settings
✓ My Library
✓ My Mixes
✓ Recorded Mix Player
✓ LCD Track: Artist, Song/Album. Elapsed/Remaining Time.
Audio
✓ Tap to Tempo
✓ Tempo control (+/- increments)
✓ Pitch-Bend (6%, 12%, 25%)
✓ 4-band equalizer (-24 dB to +6 dB)
✓ 3 Manual Loops
✓ High Fidelity Vinyl Scratching
✓ Ultra-low latency
Music Library
✓ Direct iPod library access
✓ Quick track load popover
✓ Browser by play list, songs, artist, genre
✓ AAC, AIFF, WAV, MP3
✓ Create, delete & rename Crates
General
✓ Pre-cueing thorough headphones (Mono Split)
✓ Advanced recording
✓ Auto track listings
✓ Auto-saving (cues, crates, bpm, waveforms)
✓ Fully optmized for iOS 5
Tips & Tricks
★ Crossfader: Use the A and B buttons to perform a smooth auto crossfade
★ Library: You can rearrange crates and tracks in wiggle mode
★ Sliders & Faders: Tap any where to instantly change values
★ Mixr Academy: Watch training tutorial videos to sharpen your DJ skills at http://mixrdj.com/academy
For more information, please visit: www.mixrdj.com
For news and updates, please follow us on Twitter: www.twitter.com/ipadmixr
Comments