Teaser – MacBeth Mk1 VORTEX Keyboard + Desktop Prototypes
A very quick demo of the both the desktop and keyboard prototypes of the MacBeth Mk1 VORTEX Synthesizer. Both instruments are completely analogue- including the keyboard section! Excuse the playing- and more to follow!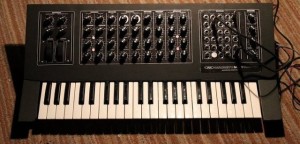 MacBeth Studio Systems' Ken MacBeth has released a couple of teaser shots of his prototype for the 'all analogue' Macbeth Mk1 VORTEX Keyboard Synthesizer, a new monophonic analog synth.
Specs and availability are to come, but MacBeth says that 'the sound is top, featuring a pure analogue circuits keyboard" and that he hopes to be able to build it at "just under the £2KGBP mark."
Comments