The Analog Lab NYC – EMS VCS3 mkII
An EMS VCS mkII was recently in for service at The Analog Lab in NYC. The joystick was repaired, VCO2 was brought back into cal, and the unit had a general cleaning/tuneup.
The VCS3 (nicknamed the Putney) is an analog monosynth housed in a distinctive angled wooden case, a truly classic synth. EMS (Electronic Music Studios) was created in England back in 1969. The VCS3 was one of their first synths and it is still a great, unique, funky little unit! Pictured above is the Mark I model. Pictured is another unit with the small wood-cased DK2 voltage-control keyboard required to play the VCS3.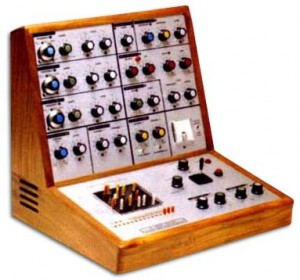 It has three oscillators, and a unique matrix-based patch system. Instead of patch wires, the VCS3 uses a patchbay grid in which the synth components are laid out, and signal routing is accomplished by placing small pins into the appropriate slots. The VCS3 was, in actuality, a modular type synthesizer reduced down to an extremely portable size.
It generates familiar sci-fi sounds (Dr. Who) and other truly analog sounds. Unfortunately, the oscillators tend to drift out of tune. There's a Noise Generator, 2 Input Amplifiers, 1 Ring Modulator, 1 Voltage Controlled Low Pass Filter (VCF), 1 Trapezoid Envelope Generator, Joy-Stick Controller, Voltage Controlled Spring Reverb unit and 2 Stereo Output Amplifiers.
Additonally, the VCS3 was also sold in a plastic breif-case and called the Synthi A. The major Synthi 100 system was based on three VCS3's strung together. Some ultra-rare commercially unavailable synths EMS made include the VCS4 in 1969 which was basically 2 VCS3's plus a keyboard. And the Synthi Keyboard 1 of 1970 was just a VCS3 with a mini 29-note keyboard.
Comments