The first album after the OMD reunion, "The History of Modern"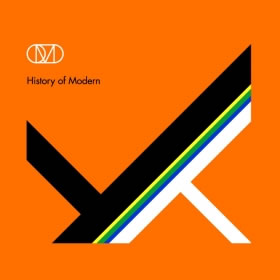 The sleeve is designed by Peter Saville, the inhouse designer from old Factory Records.
The first album after the OMD reunion, "The History of Modern", is scheduled for a September 20 release on 100% Records.
– The title felt appropriate, says Andy McCluskey When we started we were very conscious of trying to be modern in the future. But that was over thirty years ago. You were trying to do something that was modern and then the world changes and what you did use to do somehow has become historical.
Its seems to be a metaphor for the band, Andy thinks.
– Also, currently electronic music is very much in fashion. But again, a huge percentage of it to me is really a pastiche of something from thirty years ago. They are not really doing anything new. They've just bought a lot of old records and copied them. So it is just this idea of perception of what is modern and what the future is.
The first single and video pick will be "If You Want It" (September 6), released in a limited edition yellow 7″ vinyl with the B-side "Idea 1" and as digital download with another B-side, "Alone".
There will be an album listening and launch party at Club 24 in London on the day of the single release (September 6), featuring a 30 minute performance by Paul Humphreys and Andy McCluskey. London is where Paul lives with his partner Claudia Brücken (ex-Propaganda). Andy has remained in Merseyside near Liverpool.
The new tour starts in Liverpool on October 2 where OMD will perform with the Royal Liverpool Philharmonic Orchestra. UK, Germany, BeNeLux and France are the countries in question for the tour so far. Mirrors is the support act.
Comments