The Miselu "neiro" – new portable, net-enabled social music device
The Miselu "neiro" is a portable, net-enabled social music device with a musical keyboard and a wide multi-touch display, and a variety of musical apps and cloud services.
This mobile companion invites users to perform, create, learn, discover and share — from anyplace they go. Social is integral to the Miselu "neiro" and permeates through all applications. The open platform environment will also enable developers and users to build their own custom apps and solutions.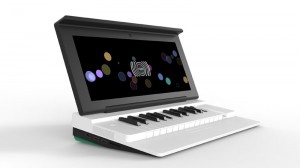 Yamaha is providing the upcoming "neiro" with the Yamaha AudioEngine (TM) Series Sound Chip NSX-1. This powerful synthesizer engine delivers a quality that almost matches the sound of real musical instruments. The DSP chip offers a larger variety of sound effects such as reverb, chorus and EQs that create a rich sound experience.
More info at miselu.com
Music: "Ken Ishii presents Metropolitan Harmonic Formulas – After The Rainstorm (feat. Jazztronik) (Yogurt & Koyas Remix)" from Sublime Records
Comments