The Trinity – A Korg Trinity Demo
THE TRINITY
Korg Trinity Pro-X 88 Keys Music/Video Demo by Ares Kalogeropoulos. Korg Trinity is a commercially successful synthesizer music workstation released by Korg in 1995. It was also the first workstation to offer modular expansion for not only sounds, but also studio-grade feature such as SCSI, ADAT, various sound engine processors, audio recording capability, and more. It was considered one of the most comprehensive music workstations, in term of features, at the time. It is affectionately referred to as the silver beast by many of its owners.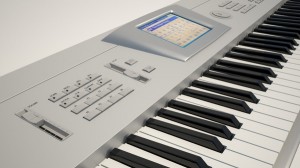 The Trinity workstation features a massive set of effects (100 Insert effects & 14 Master effects), a large graphic touchscreen (320×240) and a complete 16-track sequencer, as well as double sound generation system:
ACCESS (Advanced Control Combined Synthesis System). A PCM-based sound synthesis with 16 bit – 48 kHz PCM playback on a 24Mbyte ROM. However, since 2:1 data compression has been used, these are equivalent to 48Mbyte of samples held in conventional RAM. The PCM data includes well over 1,000 individual samples comprising 374 multisamples.
MOSS (Multi-Oscilator Synthesis System). The sound generation system of the Korg Prophecy and Z1 with: analogue modelling, VPM (Korg's version of FM synthesis) and physical modelling (brass, reed, plucked string, bowed string, organ, electric piano modelling)
Along with the Korg Prophecy, the Korg Trinity synthesizer was a descendant of the original OASYS synthesizer, an acronym for Open Architecture Synthesis System, which was a mega-synth prototype that the company previewed in 1994 but never marketed. The foundation of the system was an open concept DSP system where the OS could load various unrelated models of different synthesis and physical modelling sound generators. It was a multiple digital signal processor (DSP) architecture, with the entire system clocking in at over 900 million instructions per second. Korg later adapted some of the core technologies and released three initial products: Trinity, Prophecy and Wavedrum.
All Sounds/patches made with Korg Trinity.
Multitrack Recording on a DAW.
Software Reverb and Delay added.
Comments