Time machine: KORG DW-8000 Synthesizer 1985
Synthesizer demo of the vintage synthesizer Korg DW-8000 from 1985.
The Korg DW-8000 is a expanded version of the DW-6000. It is 8 voice polyphonic, has digital waveforms and analog resonant filters. Velocity sensitive keyboard. It has a built in digital delay and a really good arpeggiator, which can be synced via MIDI.
Additional info: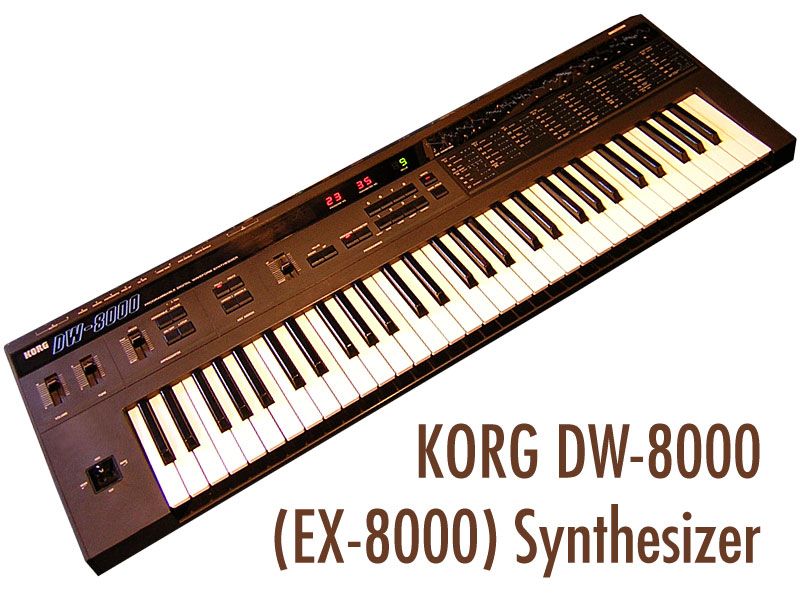 The Korg DW-8000 synthesizer was released to the buying public in late 1985 along with the cheaper model Korg DW-6000 synthesizer. The DW-8000 was an eight note polyphonic hybrid digital-analog synthesizer instrument. By the time of its launch Korg had already begun a common trend in 80s synthesizer design of using numerical parameter access as with the Korg Poly-800 eschewing the heavily laden control panels of earlier designs.
A more unusual feature of the instrument for the time was the use of sampled waveforms as the basic building block of sounds, and the inclusion of a digital delay effect. This latter feature was one significant factor in the relative success of the DW-8000 compared DW-6000 released the same year.
Given a well-programmed machine, what are the highlights that might be expected? Basses are probably one of the DW8000's strongest suits. The low end is generally thick and powerful and sits under a mix with confidence. Chunky mid-range sequence sounds are also particularly appealing, especially given a tweak of the data slider to modulate the filter as it plays. Lead patches are capable of both aggression and subtlety, as required. There are certain characteristically 'nasal' lead sounds that I have never managed to recreate on any other synth — a kind of 'oboe on acid' for want of a better description. Autobend adds a certain slurring to note attacks that is inspiring to fool around with.

The DW8000 is very much a synth, not a sample playback device, so don't expect the acoustic piano waveform to render anything much like a Steinway! The waveforms are essentially raw material to be mangled by the synthesis engine. Pad sounds are thick and rich, but never seem to sit in a mix particularly well in my experience. String sounds are also warm and powerful, but just don't seem to cut it when other sounds are around. I mention these points not as damning aspects of the machine, but as a reminder that no synth will be all things to all players. Utilise a device to exploit its strengths, forgive it its weaknesses, and it will pay you back accordingly.
Comments