Time machine: Oberheim OB-X "8 Voices"
Vintage synthesizer demo track by RetroSound
all sounds:
Oberheim OB-X (8 voice) Analog Synthesizer from the year 1979
recording: multi-track
fx: a little bit delay
more info: http://www.retrosound.de and
http://www.facebook.com/pages/RetroSound-Marko-Ettlich/265713782347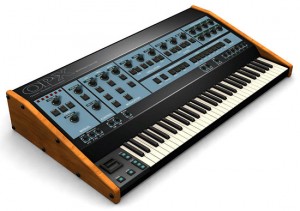 The first of the OB series Oberheim synths, this is a classic analog synthesizer available in 4, 6 or 8 voice configurations. It featured a 2 pole VCF lowpass filter with its own ADSR, a VCA with ADSR, a flexible LFO section, polyphonic sample and hold, polyphonic portamento and 32 patches of memory. Although it has been over-shadowed by the bigger and more popular OB-Xa and OB-8 synths which offer more flexible programming, the OB-X still holds its own. Capable of lush analog synth sounds comparable to the Sequential Prophet 5 but at a reasonable price. The OB-X also gives you Polymod functionality, something that the OB-Xa and OB-8 do not have. This synth is definitely worth checking out.
If you have a Reaktor licens you can download the free the OB-Y emulation.
Sonicprojects offers both a Reaktor version and a VST option for sale.
Comments