Time machine: Roland CR-68 Vintage Analog Drum Machine
The CR-68 is a classic analog Rhythm Machine related to the famous CR-78. The CR-68 has the same sound set and rhythm patterns, but is not programmable and lacks many of the better features found on a CR-78. However the CR-68 does have breaks & fills, an accent that really livens up its beats, and a balance knob that can be used to weird-out the sounds a little bit. A much cheaper alternative to the CR-78 considering it is strictly limited to its preset patterns.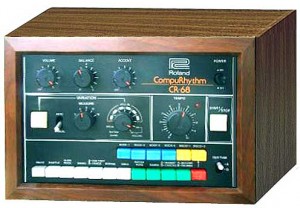 The CR-68 offers up the basic set of rhythms and sounds. There's 4 Rock, 2 Disco, Waltz, Shuffle, Slow Rock, Swing, Fox Trot, Tango, etc… The sounds are analog and include kick, snare, rim, hi-hat, cymbal, maracas, claves, cowbell and congas. These days the CR-68's sounds are often sampled instead, after which the machine itself may be kept around for use as a paperweight or book-end.
Comments