Time Machine: Roland Jupiter 4
A voyage into the heart of the Roland Jupiter-4 from the year 1978.
The first Jupiter synth. It was among one of the first poly synthesizers (4 individual voices which could be synced together for one fat monophonic lead), it had a pitch wheel that could be assigned to the VCA, VCF, VCO or all together, there are 8 memory locations and a cool arpeggiator – the arpeggiator can in the Duran Duran classic, "Rio". It also has a very slow LFO for those ever-so-long filter sweeps. Pretty good for 1978!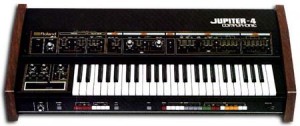 Not so cool however, are the 10 preset sounds which sound nothing like the piano, brass or strings they claim to be. The placement of all the preset buttons below the keyboard can be inconvenient, especially while playing it. And as with most old analog synths, the Jupiter 4's tuning can go out often. Still it is a nice analog synth for creating weird trippy analog sounds.
4 Voice Polyphonic and Unisono Mode
1 VCO I 1 Sub-VCO
LFO – 1 LFO
Filter – lowpass with ADSR envelope
2 Envelopes
Arpeggiator
Chorus
It has been used by Vince Clark, Depeche Mode, Vangelis, Human League and many more!
Comments