Time machine: ROLAND TR-707 Vintage Drum Machine 1985
The Roland TR-707 is a classic programmable digital drum machine from 1985.
Accent is programmable. It has MIDI and also the Roland SYNC-Interface. It has single outputs for the drum sounds. The TR-707 has fifteen digitally sampled sounds and also shuffle functions.
The TR-707 was a staple in early house music, particularly with acid house.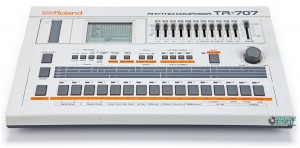 Additional information:
A very underrated drum machine! It resembles the popular TR-909, and better yet, its hi-hat, cymbals, and clap sound almost identical to the TR-909! The TR-707 is a great source for cheap 909 samples. It has some other cool features too such as its Matrix display which clearly maps out your pattern for you in an easy to read display panel. It also features both MIDI in/out and DIN sync control – the best of both worlds. Why this unit even has individual outputs for each of its drum tones!
For programming, it features a shuffle and flam effect and its programming abilities are very impressive. But it does have its limitations, the only adjustment you can make to each drum tone is volume. And all of its other drum tones are boring (especially ride, kick and snare).
Comments