Too old to tour? Simple Minds and OMD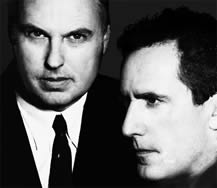 Following their upcoming album "Graffiti Soul", Simple Minds will play seven dates in the UK this December. Adding to the value, OMD will be special guests during the tour.
– Particularly in these times it is vitally important for us to give as much value to our audience as possible, says Jim Kerr of Simple Minds.
He even hints that the bands may play something together.
Simple Minds plan to add more dates and extending it to a world tour, but nothing is official yet. It's also uncertain if OMD will be a part of the world tour.
"Graffiti Soul" will be released on May 25.
I guess it is too much to hope for that some of their really great ancient stuff will be on the playlist, such as:
[youtube=http://www.youtube.com/watch?v=SLwm3djyTwY]
[youtube=http://www.youtube.com/watch?v=hd6riYfLPXk]
Cheers
Comments