Vogue MK2 free standalone synth for Mac
16tone have just released a new version (1.2) of the Vogue MK2 free standalone synth for Mac. With this release they have added a Stereo Delay module with Cross and Reverse functions.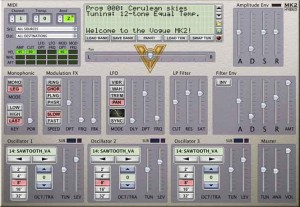 Pricing and Availability:
Free download here >>
The increasing popularity of software synthesizers and software samplers over the past decade generated a growing interest for standardized microtuning systems based on human-readable text files containing the device microtuning data (later on referred as Tuning Interchange Documents, or TIDocs, in this document). Besides those file formats based on MIDI Tuning Standard sysex messages that can be embedded in standard binary MIDI files (.mid), some noticeable TIDoc-based solutions were also adopted to add microtonal support for commercial software synthesizers that have involved, among others, the Scala format (.scl) proposed by Manuel Op de Coul, and the AnaMark format (.tun) proposed by Mark Henning. This article focuses on the syntax requirements of the Microtuner TIDoc format (.mtx), the native file format of Max Magic Microtuner, a microtonal software developed in 2003 as a companion application for Max/MSP.
Comments