Want and the german mastermind Daniel Myer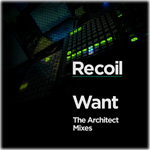 In connection to Alan Wilder's US Recoil tour a new product is out now. "Want – The Architect Mixes" is a digital package, available for free from Mute Records. We are served with three new versions of "Want", put together by Daniel Myer, the man behind Architect, together with another remix, a digital book and a movie.
Architect is joining Recoil for the US tour after some shows together in Europe.
Architect is the creation of German mastermind Daniel Myer. In 1993 he founded the legendary electro-industrial/EBM project Haujobb. Since then he has made a name for himself within the electronic scene and initiated many other projects such as HMB, Newt and Destroid.
Since 2007, he has been a permanent member of the renowned Swedish EBM band Covenant. Created in 1998, Architect and can be easily described as the most fascinating of Daniel's projects. Focusing primarily on minimal techno, powerfully distorted sequences and razor-sharp breakbeats, he manages to create a unique hybrid of electronica with smooth ambient soundscapes, rendering the results suitable for both listening and dancing.
Go here to download : http://www.mute.com/recoil_want
Comments