Animoog has been updated to version 1.0.1
Moog Music's Animoog synth for the iPad has been updated.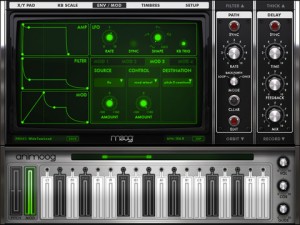 Here's what's new in Animoog 1.0.1:
New functionality:
Background audio support
Record module now has a 4 beat count-in with optional beep (configured on Setup page)
Also on Setup page, a new Random Preset button (warning: dangerously addictive)
Timbres page: 'Preview' button, select timbres silently or select & preview them audibly
Multi-mode knobs are now easier to adjust
Network MIDI session now enabled by default.
Bugs fixed:
Memory leak on switching page views was causing crashes
MIDI Clock Sync much smoother
MIDI note to KB display mapping is now correct
Handles MIDI NoteOn w/ velocity 0 as a NoteOff.
And Animoog is still $.99 in the App Store.
Comments